After an imperious Philippe Gilbert denied Nils Politt to pick up a maiden cobblestone trophy on Sunday in a memorable edition of Paris-Roubaix, our blogger Felix Lowe takes a look at all the main talking points from a fast and furious Hell of the North.
Five-star Gilbert a Via Roma win away from monumental immortality
Victory on Sunday made the Belgian veteran the first rider since Sean Kelly to win four different Monuments. Gilbert is now just one huge Milano-Sanremo performance (and some Julian Alaphilippe chivalry) away from becoming the fourth rider in history to win all five Monuments after fellow Belgians Rik Van Looy, Eddy Merckx and Roger De Vlaeminck.
Not bad considering he found himself clambering out of a ravine at the back-end of last year's Tour de France…
Ravine aside, it's a remarkable turn of events for the 36-year-old, whose career was in something of a limbo back in 2016 when his contract with BMC ran down. His inspired decision to take a pay cut to join QuickStep paid off: after all, where's the best place to go if you want to transform from a stuttering puncheur into a Diesel with the ability to win cycling's two biggest cobbled classics?
While it would take a minor miracle for Gilbert to pull off a win in La Classicissima, it will at least provide an interesting sub-plot for journalists and fans for the next couple of years. He'd have to attack from distance on the Cipressa or Poggio, but if Vincenzo Nibali can do it with minimal team support, then Gilbert surely has a chance with the Wolfpack behind him.
Deceuninck-QuickStep in seven-hundredth heaven
First, third, sixth, eighth… that's a near flawless day in the office and quite a way to bring up the team's 700th victory.
Yves Lampaert, the Belgian champion, acted as a perfect foil for his older team-mate Gilbert, putting in an earlier softener attack before Gilbert made his move in the Carrefour de l'Arbre inside the final 16km.
Behind, Florian Senechal and Zdenek Stybar had all the moves from the chasing pack covered, the Frenchman winning the sprint for sixth place with the Czech two places behind. That Stybar's performance was in the bottom half of Deceuninck-QuickStep's seven-man team – and yet he still finished eighth – encapsulated their total domination.
What's more, the celebrations at the end showed just how it meant to manager Pat Lefevere and the rest of the team – with Senechal, for one, in floods of tears after Gilbert's win.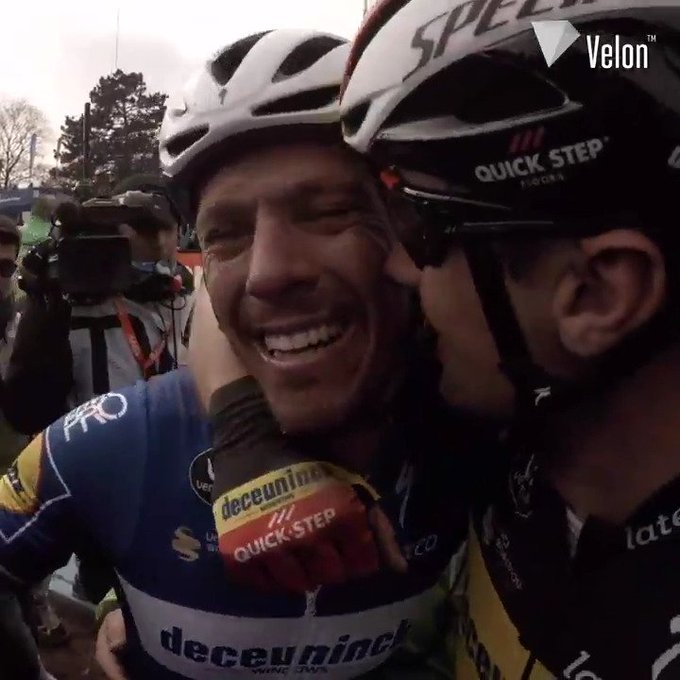 Second at Flanders, Kasper Asgreen would probably have finished higher than his 50th place had he not suffered a string of mechanicals, while Tim Declercq's DNF was entirely understanding given his role of marshalling the peloton for the first half of the race, and then onto the cobbles in pursuit of the dangerous break.
The only blot was a horrific crash sustained by Iljo Keisse, who hit a road sign on a traffic island at pace, sustaining a complex elbow fracture requiring surgery.
But if we spoke of EF Education First's excellent team-work last weekend at the Ronde van Vlaanderen, then QuickStep's collective performance on Sunday blew that out of the water.
Nils too polite but future's bright
A strong spring made Nils Politt many people's dark horse for the Hell of the North. He was certainly one of the big dangermen when the strong break of around 20 riders eventually formed ahead of the first cobbled sector at Troisvilles.
That Politt managed to still have a huge say in the race once the break was swept up underlines how good a race he rode. He may only be 25 years old, but the German has already laid down his credentials as a Roubaix specialist – improving year on year in his four appearances to date, which he capped with his runners-up spot on Sunday.
Politt will take heart from the fact that the man who beat him was more than a decade his senior, winning his maiden Hell of the North aged 36. "He's 11 years older than me so that gives me 11 more opportunities here," Politt said afterwards, stressing that it was "not a shame" to have been beaten by a former world champion in the velodrome.
He started it all in the feeding zone, with 67 km to go…Gilbert was the only one who could follow him today on the cobbles. Huge ride by Nils Politt, the youngest rider in the top 10. He has what it takes to conquer L'Enfer du Nord!
While it was Politt whose acceleration inside the final 15km ended the hopes of Peter Sagan and saw him ride clear with the eventual winner, the youngster with the expressive jaw and whiter-than-white gnashers could well do with being a bit more ruthless.
You got the impression that, with the velodrome looming, he'd already accepted that it would be Gilbert raising the cobblestone trophy. His post-race assertion certainly made it seem that he was not too bothered: "He won, but it doesn't matter because, second place, great."
Still, you sense that Politt has the kind of engine that is needed if you're to win the Queen of the Classics. Although to do so, he'll have to go from far out and solo to the line rather than drag a rival only to be out-kicked on the track.
I wouldn't be surprised if Neils Polite let Philip Gilbert win this because he's just such a nice bloke.
Van Avermaet left out in the cold
For someone who rode the entire race in leg and arm warmers, Greg Van Avermaet never really warmed up on Sunday. Having missed the main move which came around 55km out, the former Olympic champion rode to a disappointing 12th place at the Roubaix velodrome to cap a spring classics season that never really caught fire.
The 2017 winner, who is still very much in transition mode following his move to CCC Team, admitted that he was caught dozing when the decisive move went.
"I was a bit too far [back]. I thought that it was a bit too early, and it was a real mistake to not be in that group of six. I think that if I was there then for sure they weren't going to drop me. That's just how it is. I think the legs were good and we saw in the end how close I could come but it was just a tactical mistake."
It's one thing to talk up having good legs, but another thing entirely if the legs can't do the talking.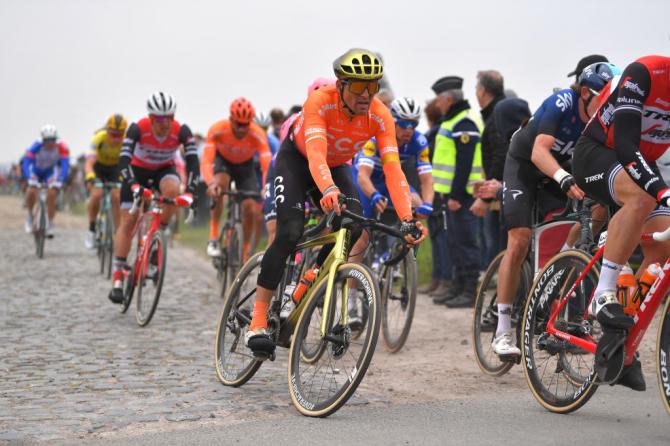 Vanmarcke's need to break the fourth wall
After his Flanders heroics in setting up EF Education First team-mate Alberto Bettiol last Sunday, Sep Vanmarckewent all-in for himself on the rocky road to Roubaix. And it looked like his best shot ever at getting the cobblestone monkey off his back – before all-too-familiar problems scuppered his chances at the business end of the race.
A jammed rear derailleur in the Carrefour de l'Arbre meant Vanmarcke was stuck in the 11-tooth sprocket for the final five-star section of cobbles. Unable to respond to the attacks from Gilbert and Politt, the Belgian had to switch bikes – by which time he was no longer fighting for the podium.
He beat a pooped Sagan in the velodrome in a consolation sprint, but his reward was his third fourth-place finish in Roubaix and a harsh self-assessment claiming that he would have been "better off staying at home on my sofa".
It's clear Vanmarcke has the calibre and arsenal to win a race like Roubaix. Gilbert did so and is six years older than his compatriot. Patience – and some good luck, for a change – will be key if Vanmarcke is to break the fourth wall.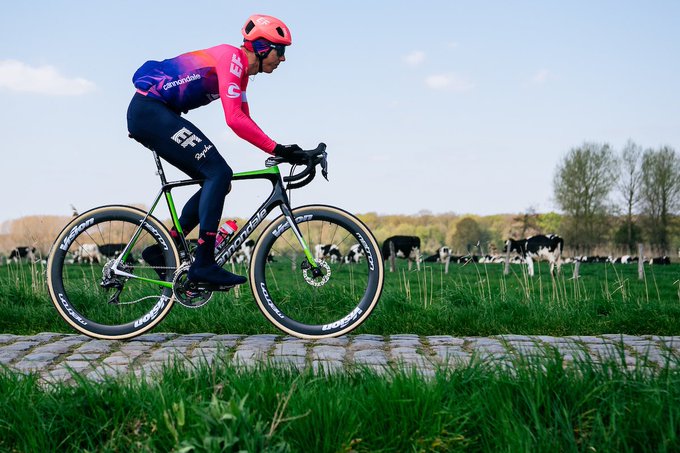 Team Sky disappearing act confounds
While QuickStep placed four riders in the top eight, Team Sky didn't have a single representative in the top 20 after yet another frustrating day on the cobbles.
Dylan Van Baarle's 21st place and Luke Rowe's 32nd place made Sky arguably the worst performing WorldTour team on the day – and means Sky's nine-year sponsorship will end without the British team ever really threatening to win either Flanders or Roubaix.
Perhaps things will change with INEOS at the helm; they can't exactly get any worse.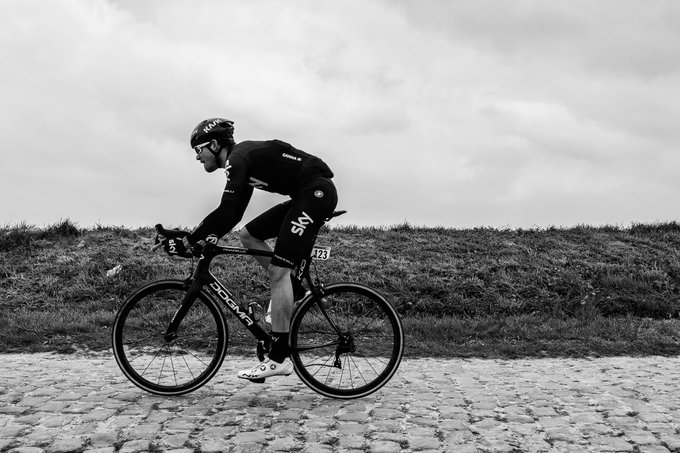 The last time we will see Team Sky at Paris Roubaix, end of an era…..
Brave Van Aert provides thrilling subplot
One week after fellow cyclo-cross star Mathieu van der Poel lit up Flanders with a stirring ride following his nasty crash 60km from the finish, Belgium's Wout Van Aert put on similarly battling performance following his own string of setbacks.
A mechanical on the Arenberg forest meant Van Aert had to chase back into contention just as the race was hitting its stride. Then, once he'd rejoined the pack, the 24-year-old had to do it all over again after changing his bike. With the pack in sight, Van Aert bafflingly hit the deck on an innocuous corner, so – battered and bruised – he had it all to do again.
By now, the race was not only with his rivals and his the demons in his head – but the meandering cavalcade of race vehicles, whose at-times abject driving made for a heart-in-mouth moment as Van Aert showcased his bike-handling skills with some cobble-dodging at high speed.
Despite all this, the Jumbo-Visma rider still managed to get himself into the race's decisive six-man move inside the final 50km. But it was no surprise when he faded in the finale given all that he'd been through.
Joy of six made the race
There were so many wonderful scenarios when the decisive break formed on the Mons-en-Pevele cobbled sector.
With no Belgian winner of any of the one-day classics this season, here were four Belgians from a move of six who could end that barren run. How symbolic had Lampaert become the first man in the Belgian national champion's jersey to win in the velodrome…
Or his team-mate Gilbert winning a maiden Roubaix at the age of 36…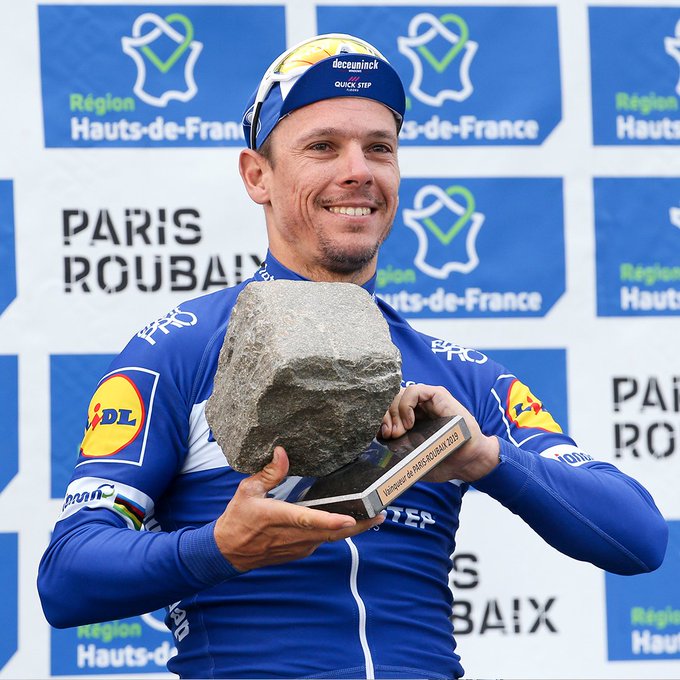 Or Van Aert, after all his travails, recovering from that crash to win a maiden Monument…
Or the nearly-man Vanmarcke, ending his run of bad luck on the cobbles and making it an EF Education First double after Alberto Bettiol's Ronde triumph…
Or how about Slovakian sensation Sagan, battling back to secure a successive Roubaix win after a troubled spring…
Or, finally, the win for the rangy outsider, Politt, who starred in the break and then made the second selection…
You couldn't have scripted it much better.
Disappointment rife in the Game of Stones
You can only get one winner in a bike race (*not strictly true) and so there will always be more tales of woe than celebratory yarns at the end of a race as unforgiving as Paris-Roubaix.
Take Matteo Trentin, for example: the European champion from Mitchelton-Scott was looking strong before he went from break to the back in the space of a couple of minutes following an untimely puncture in the third cobbled sector, and a frustratingly slow wheel change from the neutral support moto.
How about Alexander Kristoff, who entered the race very much the form-man, but left only feeling regret for his bizarre decision to ride tubeless 25mm tyres back-fired spectacularly. Two punctures before the Arenberg meant the Norwegian was never really in it – although he was the only UAE Team Emirates rider to finish after what sporting director Alan Peiper described as a "disaster of a day".
Australian Heinrich Haussler (Bahrain Merida) was forced to ride defensively after he punctured twice and had to chase back with Van Aert after the Arenberg. The veteran couldn't disguise his disappointment afterwards:
"I felt good and I wasn't ready to give up, but today's been an absolute disaster. I'm so pissed off. That's Roubaix, and that's the way it is, but I just wanted a bit of f***ing luck. That's the only race I've been working towards this year…"
Then there was Sagan, who was almost taken out by Van Aert on the Arenberg but rode his luck and got into the main break – before blowing up spectacularly in the final 15km.
But Gilbert and his victorious Wolfpack aside, there was one rider for whom there was very little disappointment. Last year, Lithuania's Evaldas Siskevicius finished outside the time limit and found the gates of the velodrome locked when he arrived. Wind forward 12 months and the Delko Marseille Provence rider rode to a superb ninth place to cap an impressive turnaround.
I don't tweet often but Thanks for all your support messages 😉 Today I really spend good time on my bike 😉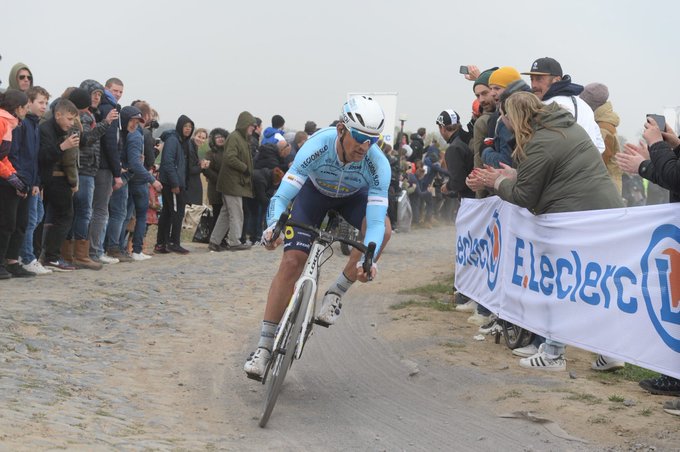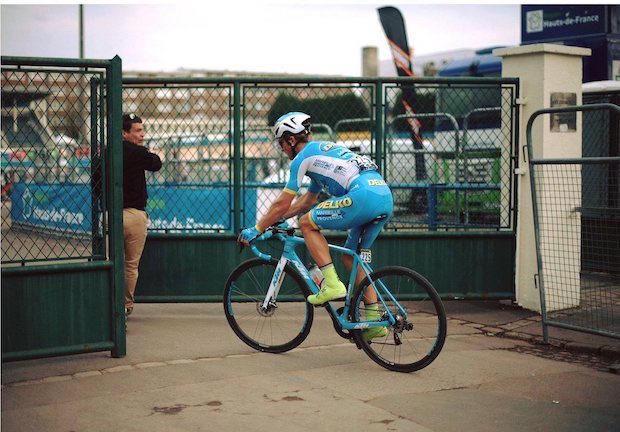 No rain, but chaos and confusion still reign supreme
It's amazing to think that so many armchair fans get embittered every year when the weather forecasts show that conditions will be dry. After all, it doesn't take rain and mud to make Roubaix compelling – or any less dangerous and unpredictable.
Punctures, crashes and events beyond control can change the race for any one of the 175 riders. We saw how Van Aert's chase back to the peloton almost resulted in the Belgian colliding with team cars. It was ironic, then, that just minutes later news filtered through that Tiesj Benoot had been forced to withdraw after a collision into the back of Van Aert's Jumbo-Visma team car.
We were told earlier that Benoot withdrew after crashing into the Jumbo-Visma team car. Well, here's said car…
Benoot, who cracked his right collarbone and bruised his right hip and shoulder, has now been ruled out of the Ardennes classics.
And even though the cause of the broken Jumbo-Visma window was reportedly a motorcycle and not Benoot's shoulders, such an occurrence shouldn't exactly be the norm for a bike race.
Given the narrowness of the roads, the jagged cobbles and perpetual dust, the biggest surprise of all is that more incidents like this don't happen. It also emerged on Sunday that Taylor Phinney's race ended because his EF Education First team car quite simply failed to spot him waiting for a new wheel on the side of the road.
"That's how crazy and chaotic this race is," EF's official Twitter feed said on delivering the news. Rain would only enhance the confusion and up the danger.